Lazar Focus is the tiny app and website distraction blocker for Windows that can help you to get your work done better, and faster, freeing up more of your precious time.
Version 1.3.0 has just been released and is available from the Microsoft Store. If you have a previous version installed, you should get the update automatically.
The most noteworthy improvements in this release are the real-time focus feedback and the refreshed UI, both of which can be seen in the screenshot below.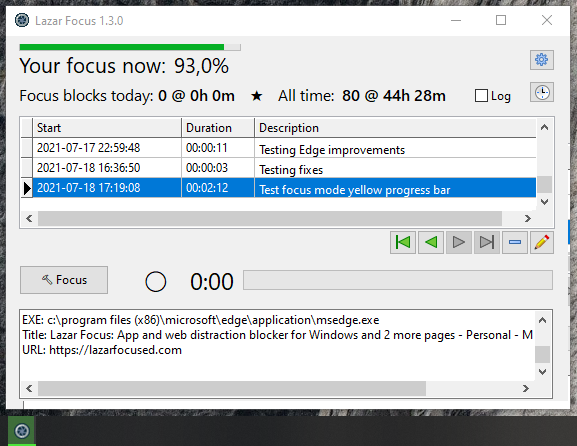 List of changes in version 1.3.0
Real-time focus measurement: Lazar Focus continuously measures, over a 5 minute rolling window, how much you use apps and websites that you have added to the block lists. In this way, even when you're not in a focus block, LF wants to encourage you to stay away from distractions.
Focus block progress, as well as real-time focus measurement (when you're not in a focus block), is now shown on the taskbar icon as repectively orange / yellow or green progress so you can keep your work in the foreground.
Fixed handling of Edge apps, which will now be closed like normal apps.
Improved HiDPI support.
Refreshed UI.
Be deliberate, get things done!
Block distractions with Lazar Focus so that you can focus on what's important.